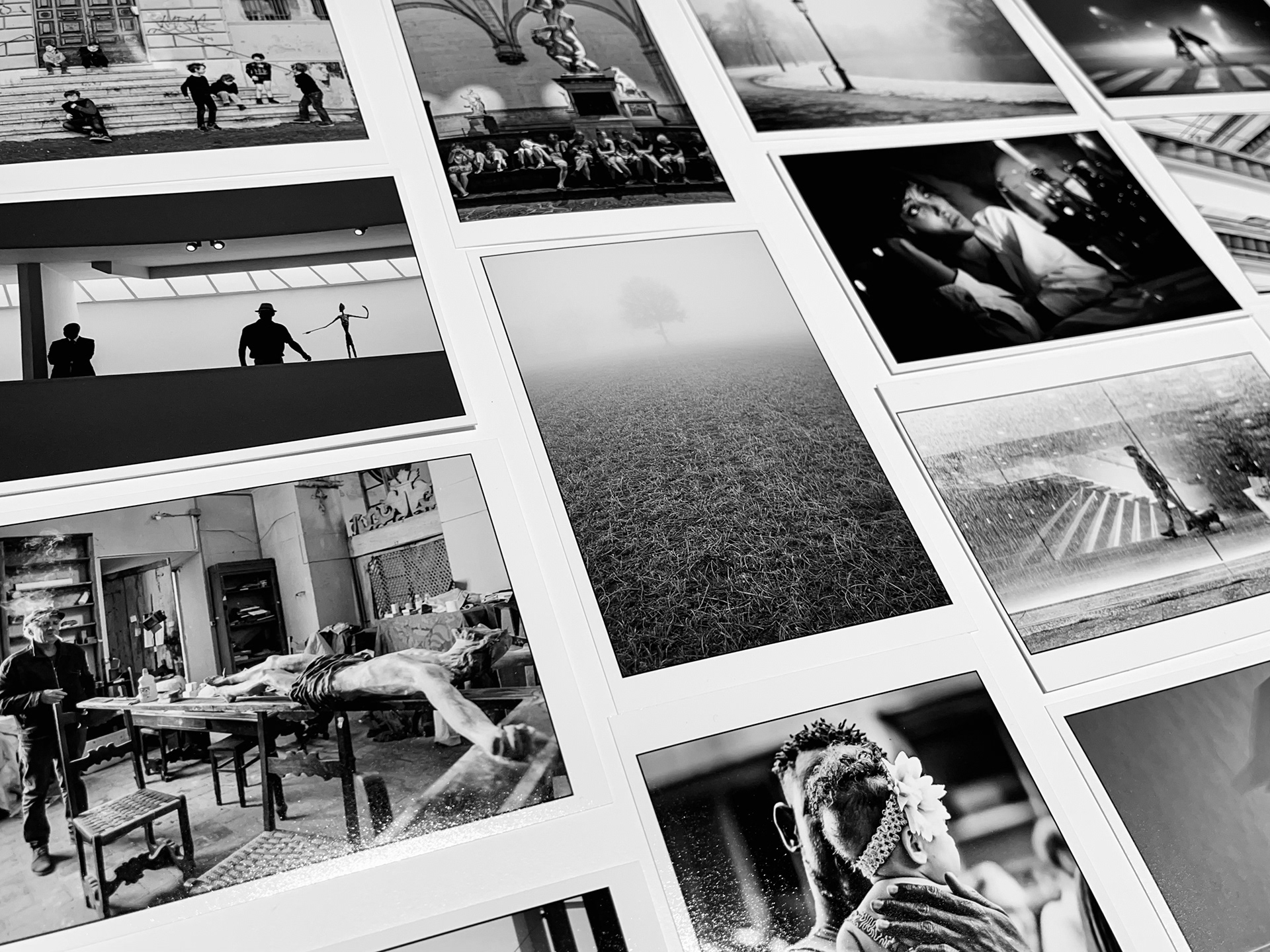 Fine art printed postcards in up to seven copies per photo. 
For a long time I wanted to make quality postcards. The visit to the conceptual art collection of a dear friend, in which I admired some evocative examples of mail art, induced me for one more time to realize how essential in the art world is to recognize the uniqueness of the artistic gesture. This need may sometimes exceed in value, though not in quality,  the artistic gesture itself. Struck by the suggestions of the moment, but innovator and researcher by nature, the artist has always tried to impress in his work his own imprint and not simply his style. So I tried to think of something that, in addition to the signature, could make a postcard unique. I thought of starting with the printing technique, up to the autograph signature, through the invisible light and all the technology at my disposal. Ultraviolet rays, NFC tags, identity, a relational database, QR code, internet, Google, the social universe, coexist with high quality analogue printing made with electronic tools, starting from a digital photograph. This confusion of worlds is at the basis of the project: not a criticism, but a reflection in a time when, even in art, we begin talking about Blockchain and we find it hard to understand the concept. There is a stamp, a postmark, a date, the uncertainty of the delivery of something that has at its center what I haven't forgotten and that I prefer, a photograph of mine, taken with passion in a moment of emotional feeling.
The print is made of A6 format on ILFORD Galerie Smooth Pearl paper, with EPSON inks, glued to cardboard and finished with transparent Hahnemüehle protective paint.
Each postcard is stamped with the date of creation and unique serial number. It is also equipped with an NFC tag that uniquely identifies it and that, if scanned using a smartphone or compatible device, allows you to obtain information on photography.
Each card is also identified by a UV-visible footprint, is stored in a database and certified with VERISART certificate to ensure its uniqueness.
All postcards are created, signed, stamped and sent by me.
Each postcard is accompanied by a VERISART certificate in which the details of the postcards are described and an e-book copy of the book Human Landscapes is attached.  The recipients of the postcards can request, without any charge,  the transfer of ownership of the VERISART certificate by
clicking here to communicate their e-mail address
.